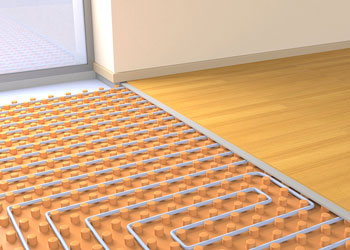 Wallis Heating & Plumbing are an established family run business that provides expert underfloor heating design, installation & repair services. Underfloor heating is considered the best modern way to heat your home, not only is it less obtrusive and more energy efficient than ugly radiators but it's also good for your health.
There are typically 2 types of underfloor heating – one being electric, known as the "dry" system and the other is water filled which is labelled the "wet" system. Wallis Heating & Plumbing specialises in both warm water (wet) underfloor heating systems as well as electric underfloor heating (dry). Wet systems are typically more cost effective than the electric systems to run. However not everyone is on the gas network and electric underfloor heating is cheaper to run than oil or LPG powered heating systems.
We provide an end to end solution and not being tied to one manufacturer, after an initial consultation we can recommend the ideal system for your home and budget.
For more information call Wallis Heating & Plumbing on 07949 886485!